Wet Abrasion Scrub Testers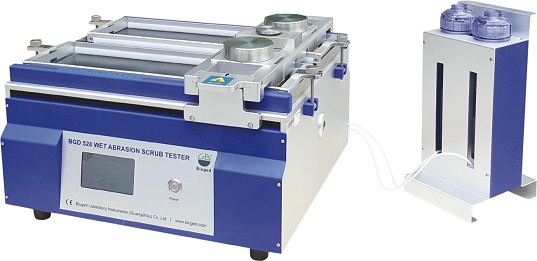 Paint often becomes soiled especially near doorways, windows, and in work and play areas. Coated surfaces need to be tested for resistance to abrasion caused by a brush, sponge, or other means. The Wet Abrasion Scrub Tester can produce a repeatable, controlled condition to simulate everyday use or wear patterns.
Our Wet Abrasion Scrub Testers can examine washability and related properties that affect the stain resistance of coatings. Detergent performance testing can also be determined in a reproducible manner.
Conform standards such as ASTM D2486, ASTM D 3450, ASTM D 4213, ASTM D4828, DIN EN 13300, EN ISO 11998 etc.
Features:
Running speed can be set to meet requirements of different standards.
With four-digit counter with auto-stop after specific time set by the operator
Compatible with a variety of abrasion pads to comply with different standards requirements, such as ISO, ASTM, DIN etc..
With stable and uniform running speed because of Push-rod design
Features two brush holders for side by side testing
With peristaltic pump design, control scrub medium flow accurately.
For more information please down the technical datasheet for each product.
Models: 
BGD 526/1 - Wet Abrasion Scrub Tester (ASTM D 2486) 
BGD 526/2 - Wet Abrasion Scrub Tester (ISO 11998, does not include peristaltic pump)
BGD 526/3 - Wet Abrasion Scrub Tester ( ASTM D 3450)
BGD 526/4 - Wet Abrasion Scrub Tester (ASTM D 4213) 
BGD 526/5 - Wet Abrasion Scrub Tester (ASTM D 4828)
BGD 526/6 - Wet Abrasion Scrub Tester (DIN 13300, replaces DIN 53778)
BGD 527 - Wet Abrasion Scrub Tester (ASTM D 2486 & ISO 11998)
BGD 528 - Multifunction Wet Abrasion Tester ('multi-standard')