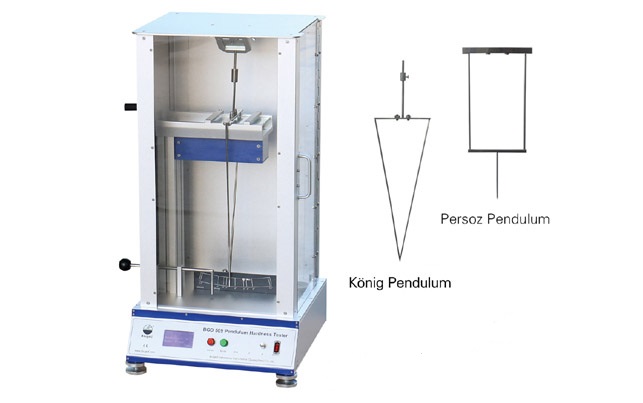 BGD 509 Pendulum Hardness Testers 
A pendulum resting on a coating surface is set into oscillation and the time for the oscillation amplitude to decrease by an amount specified in this International Standard is measured. The shorter the damping time, the lower the hardness.
Two test procedures are considered in some detail, namely those of König and Persoz. The Persoz and König methods differ by the period and amplitude of the oscillation. The Persoz test measures the time taken for the amplitude of oscillation to decrease from 12 to 4 ; the König from 6 to 3 .
The instruments embody the same principle that the amplitude of oscillation of a pendulum touching a surface decreases more rapidly the softer the surface but differ in respect of dimensions, period and amplitude of oscillation.
Our Pendulum Hardness Testers can be used in accordance with the following National and International Standards: ISO 1522 (which supersedes ASTM D4355); BS 3900-E5; DIN 53157; NBN T22-105; NF T30-016.
We offer three different models: Persoz, König, and König & Persoz combined.
| | | | |
| --- | --- | --- | --- |
| Model | BGD 509/K | BGD 509/P | BGD 509/K+P |
| Pendulum  | Persoz | König | König & Persoz |
| Weight | 200g ± 0.2 | 500g ± 0.1 | 200g ± 0.2/500g ± 0.1 |
| Ball Diameter | 5 mm (0.2 in) | 8 mm (0.3 in) | 5 mm / 8 mm |
| Deflection Start | 6° | 12° | 6° / 12° |
| Deflection End | 3° | 4° | 3° / 4° |
| Period of Oscillation | 1.4 s | 1 s | 1.4 / 1s |
| Dampening Time on Glass | 250 ±10s | 430 ±10s | 250±10s / 430 ±10s |