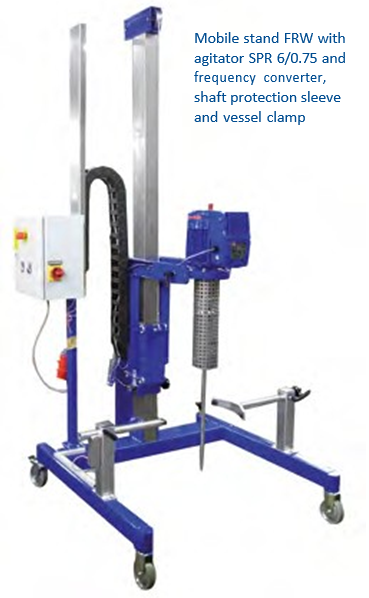 Mobile stand with H-foot for tank volumes from 100 l. The mobility of the tripod is ensured by using castors and fixed castors. The tripod can be moved due to The lift is done by a geared hand-wheel or electric with a lift drive and chain drive. Mixer powers from 0.37 kW to 7.5 kW and support loads up to 100 kg can be realized (with ex-protection only realizable to a limited extend). Under these conditions, the stand can be equipped with all fast running or gear-reduced mixers and their matching mixing elements.
The mixer is positioned on a cantilever beam which is fixed to a support slide that is moved on the stand column. The FRW is equipped with fixed and steerable wheels for mobility. The electric or pneumatic supply is guided through a laterally mounted energy chain.
The mobile stand mixer FRW is available in two standard sizes that are particularly designed for the processing of exchangeable vessels such as drums and IBCs.
Various tank sizes upon request.
Also available with ATEX Product Certificate (Directive 2014/34/EU)
Product type [SRW]

H-foot inner dimensions

(mm)

H-foot outer dimensions

(mm)

Outreach

(mm)

Lift heigh

(mm)

Lift mechanism
FRW-S - Gr.1
950 x 804
1,070 x 1,078
450
1,225
Handwheel
FRW-S - Gr.2
1,250 x 1,046
1,370 x 1,320
700
1,225
Handwheel
FRW-E - Gr.1
950 x 804
1,070 x 1,078
450
1,225
Electric
FRW-E - Gr.2
1,250 x 1,046
1,370 x 1,320
700
1,225
Electric
Other solutions for this series upon request.